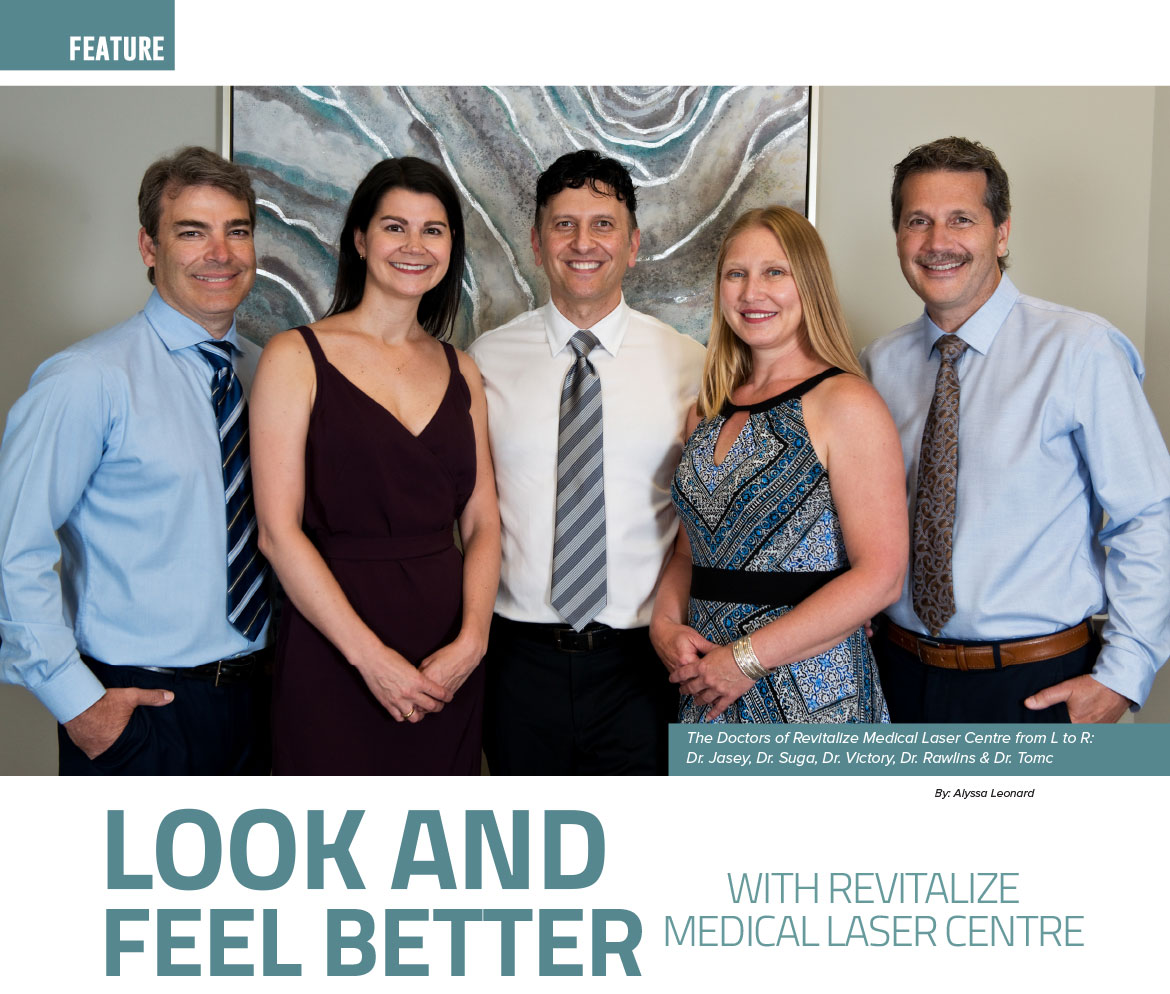 Windsor Body Issue 81: COVER FEATURE
Look and Feel Better with Revitalize Medical Laser Centre
By Alyssa Leonard
Revitalize Medical Laser Centre offers the newest and most up to date technology for cosmetic and medical procedures. Located at 2425 Tecumseh Rd. East, suite 216, Revitalize brings Los Angeles, Miami and New York cosmetic technology to Windsor, Ontario.
Offering several services for skin treatments, body contouring, cosmetic injections and vaginal rejuvenation, Revitalize has everything you need to help you look and feel your best.
Microneedling for Younger Looking Skin
The most popular treatment Revitalize offers is their microneedling service. Sometimes known as collagen induction therapy, microneedling rejuvenates the skin by inserting very fine, short needles into the skin.
Their newest microneedling tool, The SkinPen™, uses 14 sterile needles to create controlled micro-injuries. This stimulates the body's natural wound healing process to produce collagen and elastin to reduce visible signs of aging, stretch marks, acne scars, and pigmentation. Ideal for all skin types, the needles can be adjusted to various lengths to customize a client's procedure to match their skin thickness and type.
"Microneedling is one of the best ways to stimulate new collagen production and renew the skin without major downtime," explains Dr. Tomc. "No matter what issue people come to us with, it is a wonderful treatment for anyone who values glowing, healthy skin."
This procedure has little to no downtime. Clients will begin to see results in as little as 30 minutes and will continue to see improvements over the next three months following their initial treatment.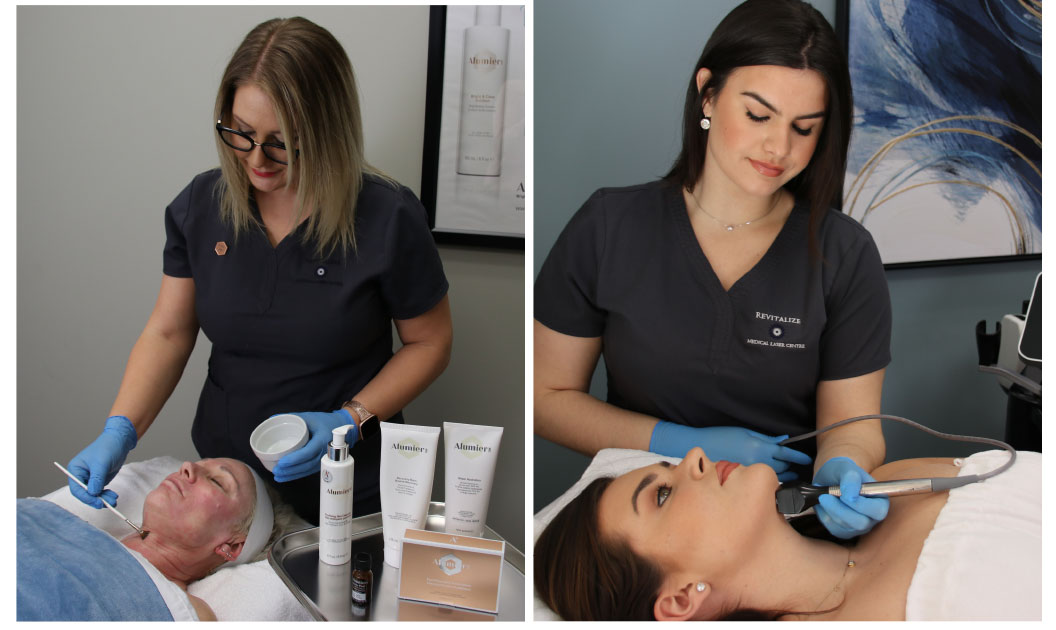 Non-Invasive Body Contouring WarmSculpting™ with SculpSure is a non-invasive laser fat reduction treatment offered at Revitalize. It can reduce stubborn fat without the need for surgery or painful side effects. In addition to being a quick 25 minute procedure, SculpSure has zero downtime. If you have been struggling to slim your waistline and feel like you have tried just about everything, this new treatment may be what you have been waiting for.
Revitalize also offers BodyFx™, a three in one skin tightening, fat burning and cellulite reduction tool. This tool is perfect for anyone looking to get rid of their "mummy tummy," "muffin top," or just improvement of body contour in general. It is new, long lasting and non-invasive. This tool reshapes a client's body and provides a non-surgical alternative to liposuction. Using radio-frequency energy, deep tissue heating and light vacuum pressure, BodyFx™ distributes heat to the skin and underlying fat, causing the tissue to heat and contract to tighten the skin and melt fat cells.

Look and Feel Younger With Xeomin Cosmetic™, Belotero, or Beautiphication™ If you are searching for a more relaxed and refreshed look, Revitalize offers Xeomin Cosmetic™/Botox Cosmetic™ injections, which is the most popular single cosmetic procedure in North America. These third generation neuromodulators are the most purified version of the Botulinum toxin type A and work by relaxing the underlying muscles to soften or smooth wrinkles. Wrinkles can commonly be found on the forehead (worry lines), around the eyes (crows feet), as well as Glabellar frown lines. Clients can also use these injections for brow lifts, "bunny lines" on the nose, lip lines, mental creases and much more.
For a full look, cosmetic fillers give a client's skin volume and a more symmetrical appearance.
Different from neurotoxins, one of the fillers that Revitalize uses is Belotero, a dermal filler made of hyaluronic acid (HA), which is a naturally occurring component of our skin already. This filler is great for enhancing parts of the face, like the lips, cheeks. In addition to smoothing out skin, dermal fillers also hydrate the client's skin to keep it looking full and fresh. These HA fillers last from six to twelve months. Another filler used at Revitalize is Radiesse®. This cosmetic filler, designed for deeper lines and wrinkles, is made of calcium hydroxylapatite (CaHA), another naturally occurring substance in our skin. CaHA fillers are thicker than HA fillers and last for at least 12 months, if not longer.
Leonardo Da Vinci believed that there was a mathematical basis for beauty, and now clients can experience it with Beautiphication™. This injection technique follows Da Vinci's principle of beauty, the Golden Ratio. This mathematical ratio of 1.618:1 is referred to as "PHI" (the Greek letter Φ) and is mapped out on the face using a calliper measuring tool. The calliper helps to create balanced proportions and a natural result for clients.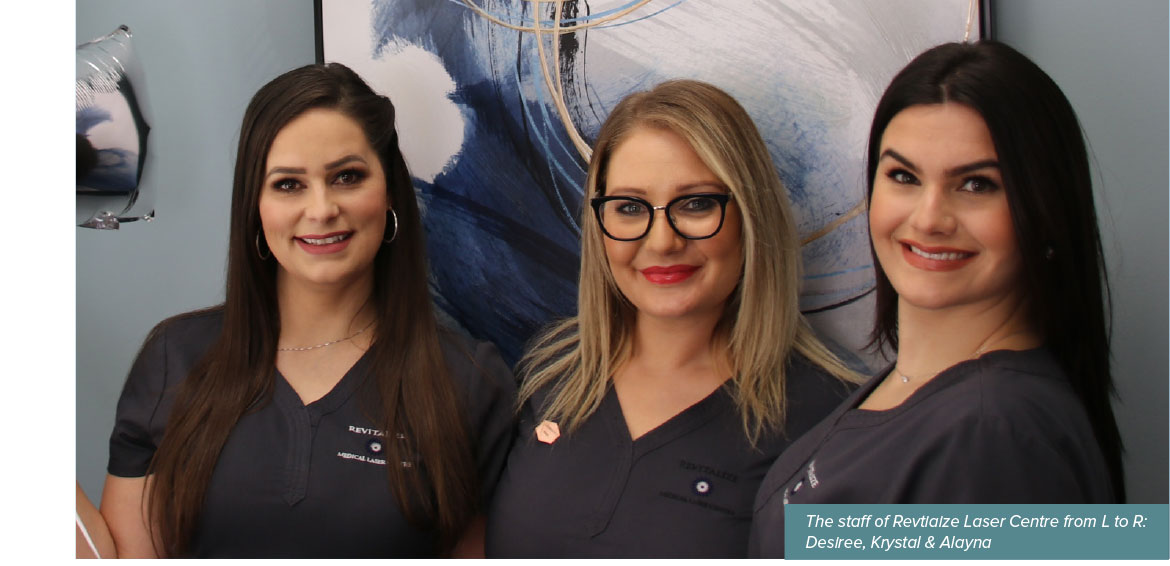 Vaginal Rejuvenation
The MonaLisa Touch™ is a painless and minimally invasive laser procedure that helps relieve women of the uncomfortable effects of hormonal changes. It is a laser resurfacing treatment that helps women after menopause with atrophy and pain. This special fractional CO2 laser helps improve the functionality of the treated area by stimulating collagen production.
Giving birth, losing a lot of weight, or even just getting older can contribute to experiencing poorly supported vaginal structures. Through volumetric heating of the tissue, Revitalize offers Votiva™, a safe and comfortable treatment that can provide rejuvenation to the external and internal vagina without the need for surgery.
Over the past couple of years, Revitalize Medical Laser Centre has seen significant growth in clientele, staff, and the services they offer. They pride themselves on their continuous education in their ever evolving field by attending several seminars and classes to ensure they always offer the best possible care for their clients. Every year, Revitalize upgrades its equipment to ensure clients have access to the best technology and treatments.
"Our goal has always been to bring the best technology for the best results to our clinic," says Dr. Tomc. "COVID-19 will not stop our eagerness to grow and bring our clients new ways to keep their skin healthy."
With COVID-19 still prevalent, Revitalize has amped up their game to ensure client and staff safety. They have implemented improved sanitizing and mask wearing routines for everyone. Staff are required to go through appropriate health screening before entering the clinic, and estheticians will also wear proper face gear and eye protection. Sanitizer is provided for all clients to use before and after their visit, and appointments are temporarily spaced farther apart to ensure no more than one or two people are in the waiting rooms at a time.
"We have five of the most well-respected physicians in the city involved with our clinic," says Dr. Tomc. "Our focus has always been to make sure we have the right staff and equipment to give our clients the best treatment and results."
Book your free consultation today by calling Revitalize at (519) 254-1444 or visiting www.revitalizelasercentre.ca. Take some time. Treat yourself. You deserve it.