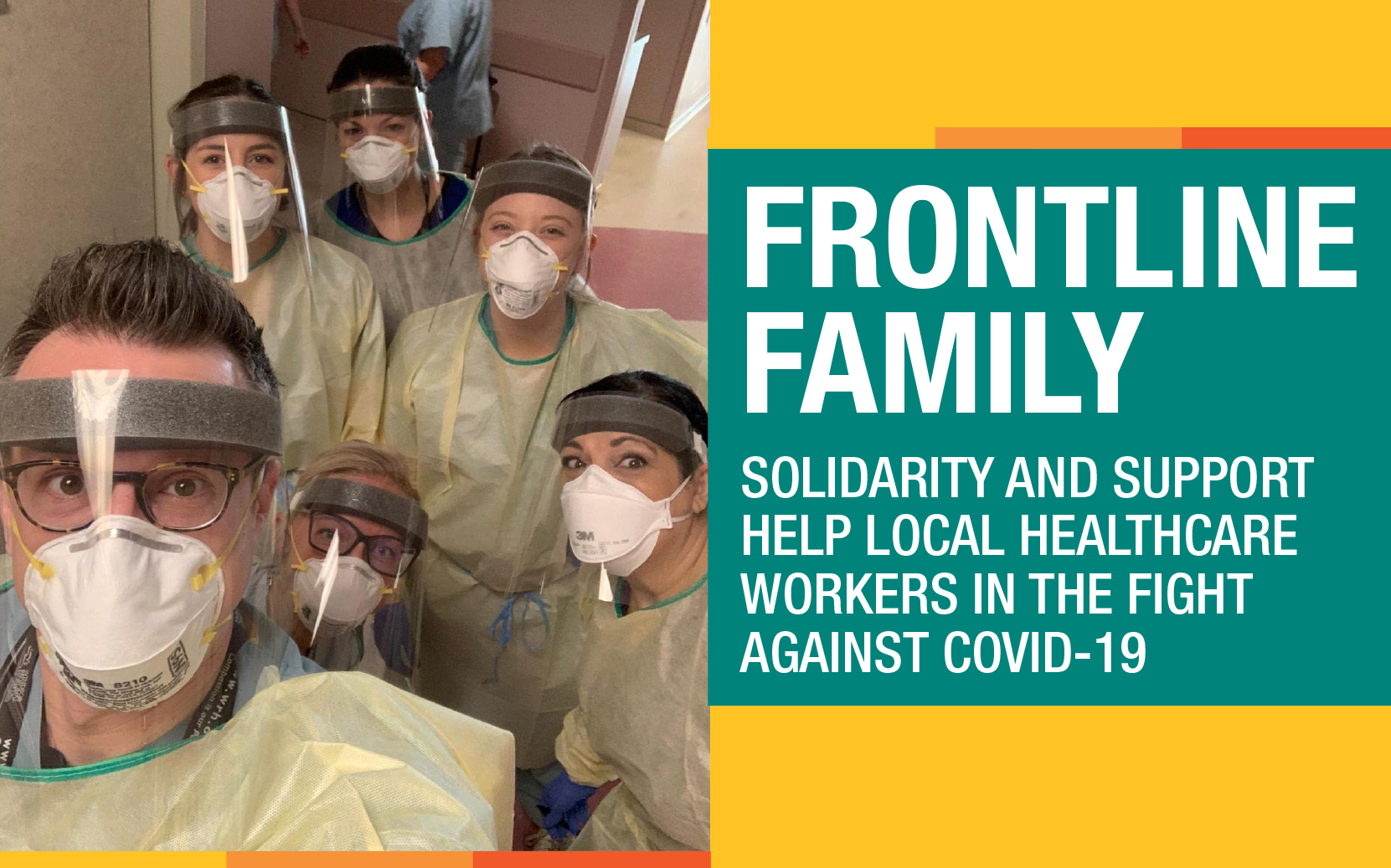 By: Jennifer Brignall-Strong
As countries around the world grappled with a deluge of novel Coronavirus cases in early 2020, hospitals across Canada began preparing for the worst.
By early spring, local healthcare workers had already logged countless hours planning for the inevitable surge in hospital admissions; securing adequate PPE and creating new treatment protocols and safety procedures virtually overnight.
"I think it really speaks to the teamwork that we have at Windsor Regional to see how we came together to organize ourselves," says Dr. Natalie Malus, Medical Director of the ICU at Windsor Regional Hospital. "It was an amazing response from everyone; from administrators and healthcare workers to frontline staff, clerks, and environmental services."
That unity has continued at the COVID-19 Assessment Centre. From proper donning and doffing of PPE to rigorous cleaning procedures, the entire team has worked together from day one to ensure the safety of patients and staff.
"The clinic runs like a well-oiled machine," explains housekeeper Jennifer Piche. "It's really because the staff are all team players; looking after each other, working together. It's been phenomenal."
Despite preparations and precautions, fear of the unknown was still top of mind for those on the frontline in the early days of the pandemic.
"There was a lot of anxiety in the first month or so, because we really didn't know what we were dealing with," reflects Nurse Brad Stooke. "The main worry was for the community and our friends and families."
Stooke is a nurse on the Clinical Teaching Unit floor of Windsor Regional Hospital's Ouellette campus, which became the official unit for non-ICU COVID-19 patients. Although the pressure of dealing with an all-new virus has been intense at times, Stooke notes that the ongoing support of administration and colleagues has helped maintain a calm atmosphere.
"Every day we receive an email update from top management; telling us what to expect, what to prepare for," says Stooke. "It's very reassuring."
Teamwork, Leadership & Strategic Planning
Daily e-mail updates, conference calls, and virtual meetings are instrumental in keeping everyone on the same page, echoes Dr. Eli Malus, Critical Care LHIN Lead for Windsor, Leamington, Chatham and Sarnia.
As a Critical Care Fellow in Toronto during the SARS outbreak of 2003, Malus saw firsthand how one virus could bring an entire healthcare system to a halt. From that scare, Critical Care Services Ontario overhauled their entire critical care system; implementing new strategies for data sharing, treatment, and more.
"We learned a lot from SARS," says Malus. "Because of that, when we started having our first cases (of COVID-19) in March, we were actually ready."
Malus credits the dedication of Windsor Regional Hospital CEO David Musyj, VP Karen Riddell, and his colleagues across the province with creating a cohesive response. From Windsor to Sarnia and beyond, all protocols are the same across the board.
"We have every ICU doing the same thing," explains Malus. "When you have a team approach, you're a much stronger group."
Cleaning & Comforting
Sanitizing efforts have also been a key component in helping reassure both patients and staff.
"It helps them relax a little when they see all the cleaning that's being done around them," adds Piche. "All the chairs, railings, the desks; everything is constantly being cleaned. Bathrooms are scrubbed, including the walls, after each use."
Comforting visitors has also become a welcome part of the job.
"The patients obviously have some nervousness," says Piche. "When they come in to the clinic, we try to keep them as calm as possible. That's not something we (housekeeping) normally did pre-COVID, but it makes them feel good."
Community Support
An outpouring of support has allowed the team to concentrate on the momentous task at hand.
"We have seen so much support. Not just from management, but from our coworkers and the community; it has really eased our anxieties and helped us focus on the patients and what they are going through," says Stooke.
"There's been a lot of community support; donations of personal protective equipment (PPE), and medical equipment." Everybody has been pitching in," adds Dr. Natalie Malus.
Looking Ahead
While the healthcare team is confident in their current strategies, protocols will continue to evolve as more new information becomes available. They also acknowledge that the trajectory of the next few months also very much depends on keeping community spread in check.
"We know it's still out there; it will be with us for a while," says Dr. Natalie Malus. "People still need to wear masks, social distance, wash their hands. Those are the things that really help."
"Any system could easily become overwhelmed," adds Dr. Eli Malus. "We'll have to take it day by day and be ready to adapt. Everybody has to row in the same direction."