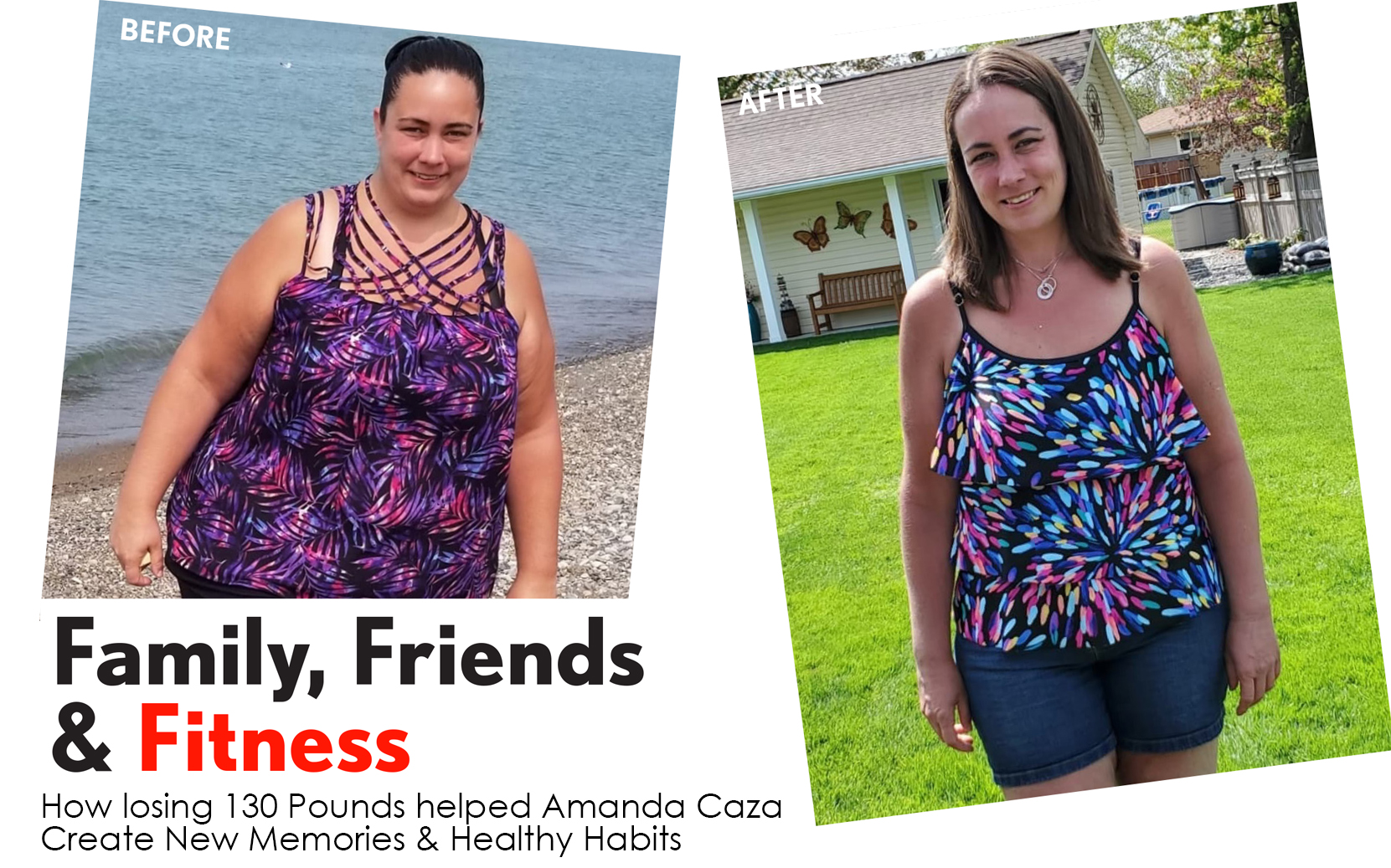 By: Jennifer Brignall-Strong
At 318 pounds, Amanda Caza was tired of feeling tired. She couldn't walk for longer than two minutes without getting out breath, often fainted in the heat, and suffered from plantar fasciitis. She had tried several times over the years to lose weight and get in shape, but could never seem to stay on track.
"At that point, I let myself go so much that I couldn't lose weight for me. I didn't care enough about myself, but then my family started having health issues and I knew that if I couldn't lose the weight for me, I needed to do it for them. The thought of losing them scared me. I realized that in order for me to take care of them, I had to take care of myself first."
We sat down with Amanda to discuss how small changes, consistency, and exercise helped her shed 130 pounds naturally in just 18 months.
How did your weight loss journey begin?
The first thing I did was get rid of all the junk food in my house and I joined Weight Watchers. I signed up as an online member only for just 3 months. I figured 3 months was a short enough time for me to stay completely strict to the program and just see where I could end up if I truly gave it my all. I never imagined I would have stuck with it and renewed my membership for another year after that, or got as far as I have. I ended up joining the meetings as well 5 months later and they've been a huge part of my success.
What was the toughest challenge you overcame?
Resolving my food addiction and keeping the weight off throughout this pandemic. I used to eat fast food 3 times a week, sometimes twice a day even. I often turned to it for comfort when I was stressed. This pandemic has caused a lot of stress in my life, but I didn't turn to food this time. I found other ways to relieve stress such as going for a bike ride, going for a walk, having a relaxing Epsom salt bath, or some meditation to end the day.
What kept you motivated?
All of the connections and friends I have made through Weight Watchers. A lot of us have similar journeys, before and now, and we constantly hold each other accountable, share recipes with each other, and talk about our successes and challenges. It helps so much knowing that you aren't alone in this journey. There's always someone that just understands you and has been there. The support has been the biggest thing that has got me to where I am today. So many friendships have been made from this and that's truly the best part. The weight loss is just an added bonus.
What advice do you have for others who are trying to lead a healthier life?
Start making small changes; don't overwhelm yourselves with too much at once. Focus on losing 5 pounds at a time and keep going. Be honest about your struggles and don't be afraid to ask for help. I could easily go to the gym 6 days a week, but the food was what I struggled with the most. I wasted all that time in the gym for nothing when I started because I wasn't eating properly, so I stopped going to the gym and started focusing on just what I was eating. I started feeling a lot better and results started coming. I had lost my first 40 pounds in four months just by eating better, and it motivated me to keep going.
What is your favourite new healthy habit?
I have turned to bike riding after dinner to stop me from night time snacking and it's helped a lot. It's also a ton of fun! I've been able to do so many more things now that I couldn't physically do before. My dad and I bike a lot together and have been able to make so many memories together.