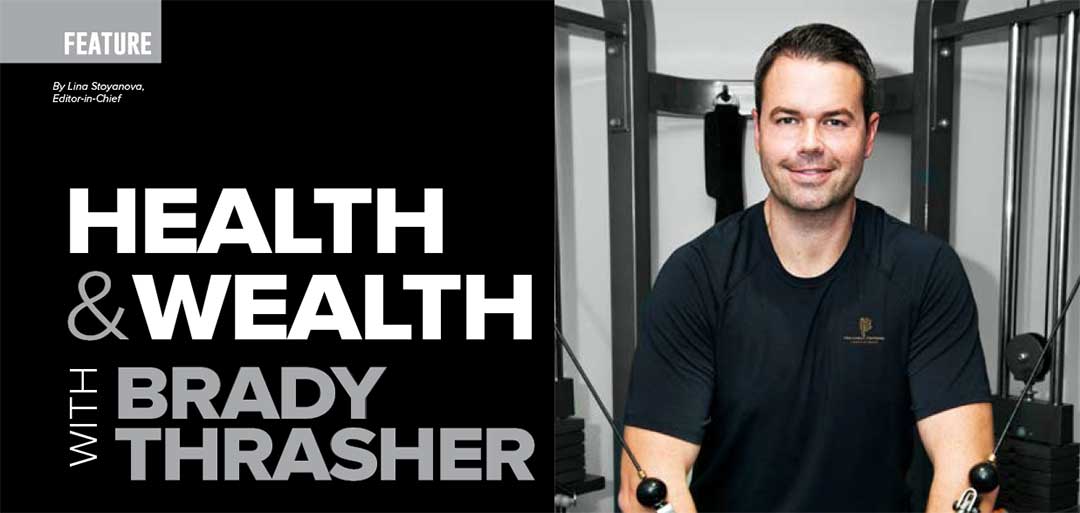 Brady Thrasher is a Broker with RE/MAX Preferred Realty Ltd., who prides himself on quality, relationship-based client experiences versus managing large quantities of listings. Believing information and relationships are key, Thrasher offers well-informed, passionate representation in all aspects of real estate investment and development across Windsor-Essex county. Handling a variety of clients in Windsor along with two real estate brokerages in south Florida, Thrasher believes inner balance and great, positive energy is key.
Q: Why Did You Become A Real Estate Agent?
A: I love helping position clients get closer to their dreams and adding capabilities they weren't even aware of, it's very rewarding! To me, it's all about understanding who you are working with and knowing where they want to be with both their short and long-term goals. It's about helping them long-term and providing quality service. It's not just about the sale and then we are done. I work with a lot of clients who want something specific. I'm not interested in just putting a "For Sale" sign on the property and waiting for calls. I approach the business aggressively and take on clients that desire something specific, even if it's not on the market or listed. I knock on doors and find creative ways to create opportunities.
Q: How Do You Keep Up?
A: With the industry evolving, me and my team are looking at finding ways to better service clients and help them plan for wealth, and even giving them options to get involved in different marketplaces and invest through outlets we are investing in. I'm definitely intrigued by different investment vehicle options, development and planning, and just fascinated with always trying to go to the next level. I never want to stand still and once I reach an accomplishment, I want to keep moving on to the next. I also have a huge obsession with finding new ways to improve myself daily. I constantly try to learn new ways to balance work and spend more quality time with my family. I also find it very important to focus on my health because health is wealth!
Q: How Do You Balance Work & Home Life?
A: It's hard sometimes because I'm available 24/7, clients can call or text me at 2 a.m., it's not always ideal but it happens, especially since we help clients who live and work in different time zones. I try my best to create balance in my life and I'm very lucky to have a supportive wife. I communicate well with her and having a good partner is truly essential if you're always go-go-go like me. When I come home from work she normally gives me 10 minutes to settle in and get on my feet. I try to leave work and any stressful experiences that may have occurred during the day, at my front door—as soon as I walk in my house, I try to give attention and good energy to my family. I try to disconnect before getting home as well, so I do try to listen to a podcast, music, Bloomberg, or just drive in the quiet and reflect, visualize things I have to work on or accomplish —I think mental and physical balance is very important. I do focus on hobbies as well like learning about things outside of real estate that stimulate me, currently that's economics, travel and wine. I believe in order to have the life you want you have to work really hard daily to make sure that happens. I don't think you can have the perfect balance at all times but if you work on improving yourself at home and at work, you can get closer to something that's ideal for you and your family. With having kids there's challenges balancing especially when they have everchanging routines. My kids are very active, they're in hockey, soccer, karate, swimming, school and a ton of other things, so we work really hard to get a routine that works for us. I do ensure to always get quality time with my wife and kids which makes working so hard fulfilling—knowing I've earned the moments to slow down and take it all in.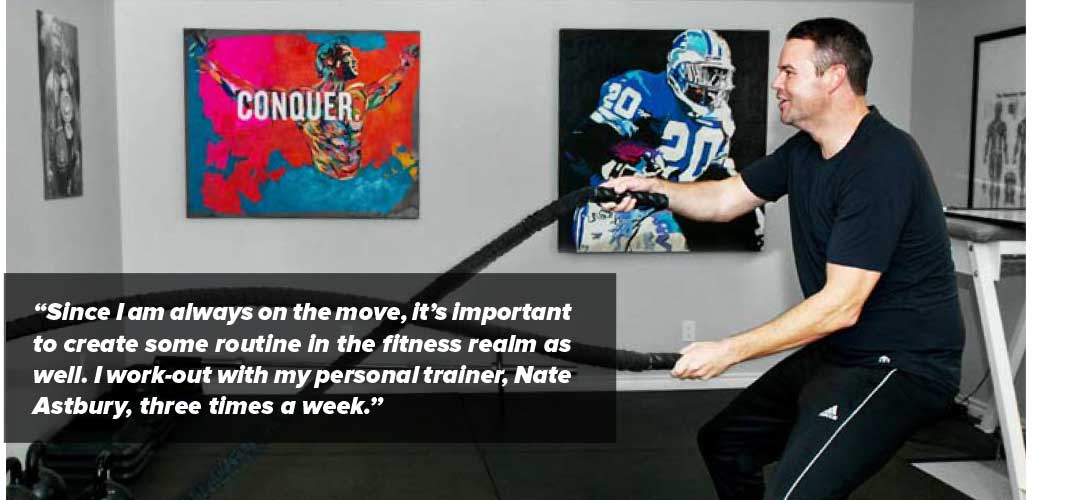 Q: How Do You Create Healthy Habits?
A: I'm very conscious about intake and fuel and looking at my body as a machine to function at its highest level. I do believe mental and physical health is very important. I try to meditate when I can, mostly in my car even if it's for five minutes, I find doing breathing exercises helps me relax and think clearer. I surround myself with good energy, I like to say, "Surround yourself with level uppers, not one uppers." I am fascinated with visualization, I visualize and play out scenarios a million times throughout the day in my head, I avoid procrastination because let's be honest, it can bury you, and I try to be as honest and upfront as I can be. I think when you're honest you remove the effort and time (which adds a lot of mental strain), into maintaining a certain situation. Don't put time into curve balling people or being indecisive. Learn to say yes, and learn to say no when appropriate, because the mental clarity that it gives you is priceless. I invest a lot into good relationships, ensuring I surround myself with good people and that goes handin-hand with creating healthier habits. I believe in being very proactive, reactive, and I always operate on a go-getter thought process. If someone is being toxic or negative, don't engage, because at the end of the day it'll affect you personally and even professionally.
Q: How Do You Stay Active?
A: Since I am always on the move, it's important to create some routine in the fitness realm as well. I work-out with my personal trainer, Nate Astbury, three times a week, and when I eat out, I try to grab healthy options like The Meal Prep Company. I structure my day in a very organized manner, so I maintain seeing my trainer. If I do see an opportunity to work-out more or play with my kids, I do. Stamina is important and when I work-out and eat better I notice positive changes: I feel lighter, focused and clear. The motivation to continue feeling my best is a huge driving force because the better I feel, the more I can give of myself to my family and clients. I want to be able to play with my kids and keep up with them, and I also want to be able to give the best version of myself to my clients, no matter how long of a day I've had. Working out and eating better definitely helps me achieve that.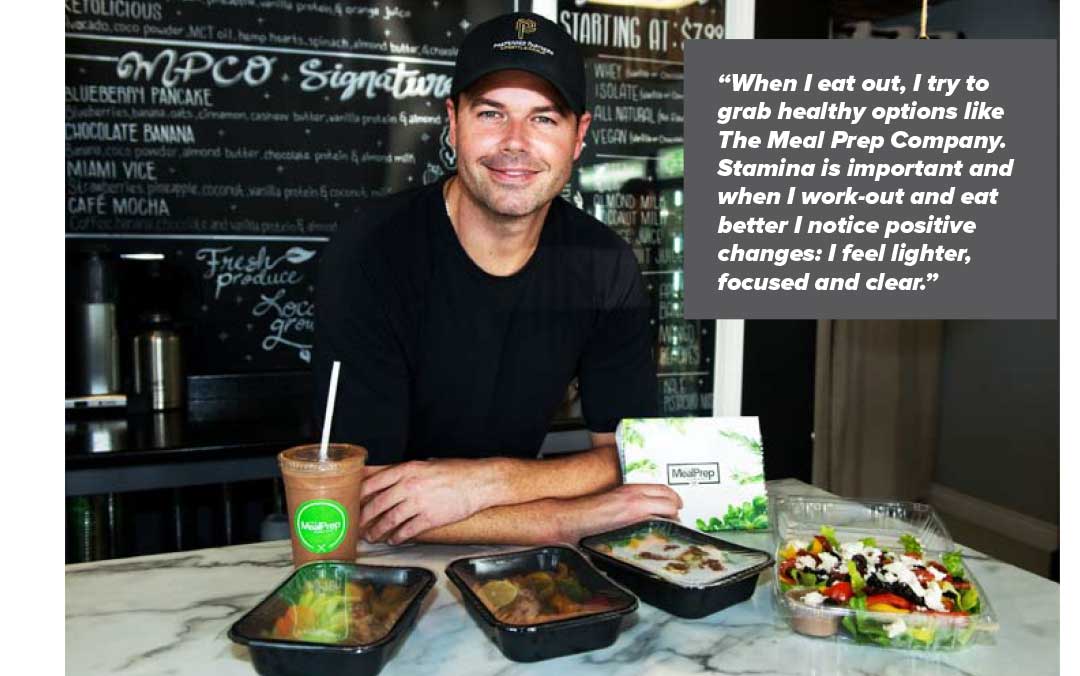 Q: Do You Take Any Supplements?
A: I try to be as healthy as I can with such a hectic lifestyle, but I do think every once in a while we all need a little help and can supplement. We have a holistic doctor that provides us with natural immunity boosters. I also take several different vitamins like vitamin C, magnesium, zinc, probiotics, and ever since I learned about the positive impact of cold showers, I do them every morning. My wife is very conscious about our health, our family relies on her, her knowledge and passion, to ensure we are stocked at home with local natural products like local bee pollen, honey, fermented pickles, farm raised free run eggs and chicken. I would be super unhealthy if it wasn't for the help of my wife who encouraged me to see a trainer and consume better foods, since I'm by no means a poster boy for fitness. I love sweets, coffee, steak dinners and wine, but substituting and earning meals has helped me control my energy. I have recently been intermittent fasting (I eat from 12 p.m. – 5 p.m.), and it's amazing, I feel much more energetic. The immunity boosters have also helped me avoid getting sick. My clients and family need me so I can't afford to be out sick for a week. I take the little vile and put it under my tongue and it dissolves—it's super simple to take. I've been on it for about six months and this immunity booster in particular combats colds and flus. I'm looking to always be at a constant peek— at the top of every mountain is the bottom of another mountain to climb. I'm not a regress mind-thinker, I very much want to conquer all my goals.
Q: What Are Your Personal Tips For Busy Professionals?
A: When it comes to the workforce, I think it's important to trust your employees and coworkers. Always try to be over-prepared, work hard, let the little stuff go, always try to find new opportunities, be honest—avoid sugar coating things, and never feel bad about
saying no to something. My minutes matter—energy and time are one of the biggest assets we have next to good health. If we don't have good health, we have nothing. So do everything it takes to protect your mental and physical health so you can have more freedom and energy in your personal life, and more stamina and focus in your work life. When it comes to health, I would say finding some sort of balance or routine is very important. Try to meditate, run, go for walks, even just stretching (I'm really trying to incorporate stretching into my routine right now for blood flow, since I drive so much). Do little tasks each day and try to look at your body as a machine—my body is the vehicle and my brain is the engine, and I just want to do what I can to make sure everything runs properly. The better you feel, the more positive impacts you'll see in your personal and work life, so make sure you always take care of yourself, no matter how busy you are. "When I eat out, I try to grab healthy options like The Meal Prep Company. Stamina is important and when I work-out and eat better I notice positive changes: I feel lighter, focused and clear."
The Meal Prep Company is located at 3850 Dougall, Windsor, ON
Phone: 226-221-9797 Website: thempco.ca
If you are interested in Personal Training sessions with
Nathan Astbury, he can be reached at Optimal Health & Fitness,
226-346-3542 or email optimalhaf@gmail.com.